Last week, one of my co-workers brought in a box of gingersnaps. Of course, I grabbed a couple throughout the day. As you know, I enjoy fall and all the flavors that come with it. However, as I bit down into the rock hard cookie, I nearly broke a tooth. In considering what to feature next on our top ten lists, I thought of some ways that would highlight the tasty flavors of gingersnaps without the risk of breaking your teeth. Therefore, we found the top ten gingersnap recipes! Links will bring you straight to the recipes. Let us know what your favorites are!
10. Pumpkin Cupcakes with Rolos, Gingersnap Crust, and Apple Cider Buttercream
Pumpkin cake, caramel, apple cider frosting, and a sweet and crispy crust? I'll take two.
9. Gingersnap Pumpkin Pudding
I've always had problems with pudding – a texture issue. But this may be something I'd at least try. A whole different take on gingersnaps…with PUMPKIN.
8. Gingersnap Bread Pudding with Bourbon Butter
Stop drooling. You're making a fool of yourself.
7. Chocolate Covered Gingersnap Pancakes
Screw chocolate chip and blueberry pancakes…lets get fancy up in here with sugar, spice and everything nice.
6. Pumpkin Cheesecake with Gingersnap Crust
Now this is an excuse to get you through an entire box of gingersnaps…without the mere threat of breaking a tooth.
5. Gingernsap and Cranberry Pork Tenderloin
Some of us enjoy savory of sweet. Here, we have a combination of the two. With some sweet potatoes, it may even start to feel like Thanksgiving.
4. Gingersnap Beef Stew
I love me a hot stew on a Sunday afternoon during a football game. I never thought to add something sweet and spicy like gingersnaps to the mix.
3. Fifteen Spatulas – Pumpkin Chip Gingersnap Ice Cream
If you truly have a sweet tooth, then you know ice cream never goes out of style. The flavors just change by season.
2. Pumpkin Gingersnap Crunch Cake
A pumpkin-spice take on an apple cobbler(ish) recipe sounds like a fall-flavored challenge.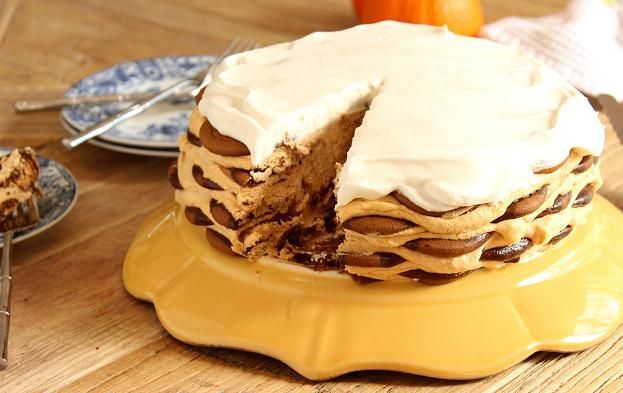 (Food 52)
1. Gingersnap Pumpkin Icebox Cake
Eff the summer and its icebox cakes. This is where it's at. Gingersnap cookies with pumpkin filling.
Don't see your favorite? Tell us what it is!
For other top ten lists, check them out here!