80% of Americans have at least one pumpkin still sitting on their porch – FACT. Well, not definitely, but you get the point. Many of us toss the pumpkin in the woods, others in the garbage. But why not EAT the pumpkin (or drink out of it)? Even though Halloween is over, you can still find a handy (and edible) way of using that pumpkin before throwing it out. These are recipes that require the real thing – pumpkin puree, real pumpkin…not pumpkin pie filling. You're welcome.
10.  Cauliflower-Pumpkin-Ricota Gratin
Total veggie dish…so it's totally healthy. With one pumpkin and a large serving of cauliflower, you can feed a full family!
9. Warm Kale Salad w/Pumpkin Seeds and Sweet Potato (or PUMPKIN)
I'm sorry to even say this…but yes, I like Kale. UGH. I understand the disappointment. But even if you don't like Kale, adding in the pumpkin seeds for a good crunch, and substituting the sweet potato with pumpkin may finally get to you the "basic" status that you've been aiming for. If you don't know what that means, clearly you aren't cool.
Yum. That's all.
(Reluctant Entertainer)
Tomato soup is the perfect meal for a cold winter day. But we have not reached winter yet! Clearly, the only way to make it a seasonal dish right now is to….add pumpkin!
6. Bacon, Egg, and Goat Cheese Stuffed Pumpkin
This is not for the faint of heart. But need I remind you of the FIRST word….BACON!
Personally, I believe this is the most useful.
Try your own "fake out take out" night and impress the fam with this adorable dish.
(Judy in Her Natural Habitat: The Kitchen)
Cheese, pumpkin, and pasta. Need I say more?
(My Kitchen Addiction)
While I love sweets, and overall American values like over-eating, it's always fun to embark upon different flavors. This is a completely different way of using a pumpkin – put the pie crust away.
(Tiny Urban Kitchen)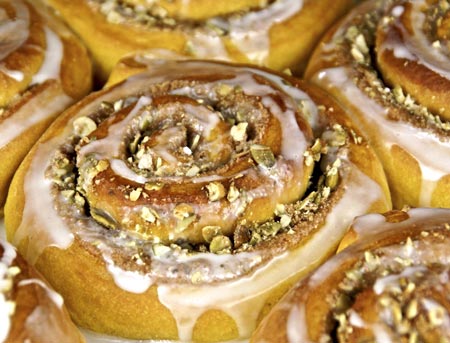 1. Pumpkin Brioche Cinnamon Rolls
Ooey, gooey, pumpkin-y. Screw Cinnabon.
(Wild Yeast)