Cookies Gone Wild! Top 10 Christmas Cookie Recipes
Christmas is around the corner. I know I'm counting down…yes…4 days of work left until break. Co-workers are coming in with their trays of Christmas cookies to share and we all poke around to see if our favorites are there and leave the lame ones to go stale. We spend hours upon hours creating tons of cookies to share with our friends and loved ones and there are always rejects left behind. What if tradition was thrown out the window and you could make any kind of Christmas cookies you wanted? Leave the plain butter cookies and the raisins and fruit filled cookies behind this year and try out our top ten Christmas cookies. Enjoy…
10. Peanut Butter Oreo Truffles
These are so easy and so tasty. You can through them in your Christmas tin and all of the sudden, these will be all your friends are talking about. You can make them in dark, milk, or white chocolate and can even add coloring to suit your season of choice.
RECIPE: Endless Simmer
9. Coconut Macaroons
My fiance makes bakery-quality macaroons. Seriously – best I ever had. But these take a very close second. Macaroons are not often thought of as a Christmas cookie, but they are too damn good not take a spot on the dessert table after Christmas dinner!
RECIPE: Barefeet in the Kitchen
8. Red Velvet Cookies
Red Velvet is not necessarily a "Christmas Seasonal," but I think these will easily earn a place in the cookie tin. Especially with that cream cheese filling…
RECIPE: Amy Bites
7. Salted Caramel Clusters
Okay…they are not technically cookies. But they look so easy to make and even easier to eat.
RECIPE: The Small Things Blog
6. Andes Mint Cookies
My aunt always had a dish of Andes mints on the coffee table. Needless to say, the dish was empty after my family ever visited. I never thought of putting them on cookies. This would be a great after dinner cookie with a cup of coffee.
RECIPE: The Girl Who Ate Everything
5. Cranberry Pistachio Biscotti 
Fiance made these last year and these are the most requested for returns this year. We added some white chocolate drizzle on top to give it a little extra. Yumma!
RECIPE: A Family Feast
4. Chocolaty Melting Snowmen
Part of making cookies is having some fun, right? While I will always support making gingerbread men do some wacky and uncensored things, this melting snowman cookie is a fun take on a chocolate cookie.
RECIPE: Agriculture.com
3.  Sea Salt and Peanut Butter Turtle Cookies
I can just picture myself dunking this in a tall glass of cold milk in front of the fire. Talk about a savory cookie…
RECIPE: Something Swanky
2. French Vanilla Peppermint Bark Cookies
I enjoy peppermint bark, but I hate the way it gets stuck in your teeth and you are picking "mouth boogers" for the rest of the day. These cookies give you the taste of peppermint bark along with a complementary french vanilla cookie!
RECIPE: Frugal Foodie Mama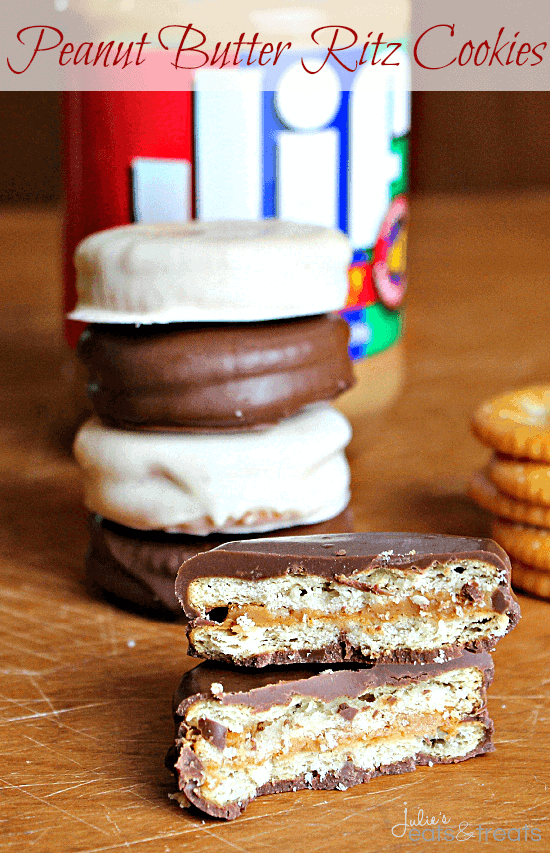 1. Peanut Butter Cracker Cookies
Sweet and salty. Creamy and Crunchy. The perfect balance of delectable foods all in one cookie. …and possibly one bite.
RECIPE: Julie's Eats and Treats