Gizzards, Kidneys and Balls…For Vegans
I'm not entirely vegetarian. I still eat seafood regularly and poultry occasionally. And I'm not one of those judgmental asshats that sits at a table with carnivores and silently judges them or does the whole, "Do you even know what you're eating?!" thing. If you're vegan, good for you. If you're a carnivore, go for it. I get it. Bacon is delicious. What I find puzzling is the whole fake-meat-disguised-as-meat phenomenon. It's like fat free butter or fake fur – it just feels weird. Why would anyone who has omitted animals from their diet have any desire to consume tofu shaped into an animal?
OK, I'll be entirely honest — the realistic turkey — I have a compulsion to buy one the next time I'm home (it's from a restaurant/tofu manufacturer in LA called Vinh Loi), just out of morbid curiosity. So I started poking around and came across a whole world of fake meat that I never even knew existed. Vegetarian offal:
Like vegetarian gizzards.
(Photo:Vegetarian World Foods)
Vegetarian intestines!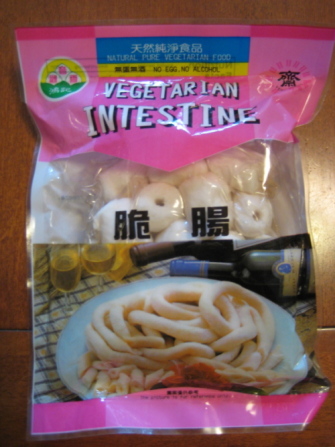 Or kidneys.
And my personal favorite, swallow balls. While looking for pictures of swallow balls, I saw things that I can never, ever un-see.
Maybe it's because I don't find actual offal appealing – but faux intestines just do not get my mouth watering. In any case a little more digging suggested that the non-meat-masquerading-as-meat situation was a result of ancient Buddhist tradition. I have no idea if this is true. But I'm still having a hard time with the picture of the intestines on the plate on the front of the veggie intestines bag – I keep coming back to the intestines. How is that appealing?! "Here – have a plate of intestines! With some wine!"
So the next time you need vegetarian offal to complete that vegetarian recipe you're cooking up, you're covered. And if you make swallow balls anytime soon, please – save me some.