The Cupcake Trend Goes Big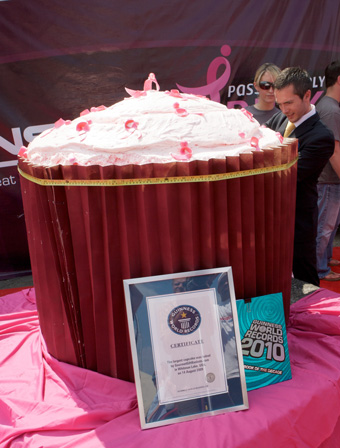 Feast your eyes upon this – the new "WORLD'S LARGEST CUPCAKE!" This 1200-plus pound cupcake made its grand appearance at the Woodward Avenue Dream Cruise Classic Car Show in the Detroit area last week. Looks beautiful, although perhaps a little light on the frosting?
Unfortunately for me, I missed feasting my eyes on this cupcake by just two days. Happening to be in the Detroit area last week to visit friends and family, we made our way to Dream Cruise on one of the "unofficial" cruising days, Thursday, and thus missed what could have been a life-changing moment for me. Instead, all I inhaled was a mass of car exhaust. I'm sure I would have been a much happier camper if I could have seen this behemoth in person. Apparently there was a cupcake eating contest affiliated with this event as well, where the winner ate 18 cupcakes in 8 minutes. Gag. Too much sweetness in too short a time. I have to wonder if the winner got a crazy sugar headache and crashed out twenty minutes later.